Taipei, Taiwan, October 2016
Mike Wu and Arthur Yeh invited me to Taipei City to speak at the 2016 Dechnology Forum. My week-long visit to Taiwan gave me a deeper understanding of just how bustling and active the newly-appointed "world design capital" really is.
PRE-TRIP
My (Limited) expectations
Before my week in Taipei city, my knowledge of the design scene in Taiwan was limited to my friendship with Taiwan-born designer Hung-Hsiang Chen, a former creative director of Asus. I knew of Asus in my childhood for the exceptional build quality and their respect among the tech community, but it wasn't until my relationship with Chen that I realized its Taiwanese roots, along with other companies such as TSMC, Acer, BenQ, D-Link, Foxconn, and HTC.
DAY 1
Finding my way In Zhongsgan
After depositing my luggage at Mai Hotel, I roamed the streets of the Zhongshan region while waiting I waited for exhaustion and jet lag to overpower me. However, the city was adequately equipped to keep me awake. Despite the consistent rains and limited availability of English signage, I navigated through the street kitchens, stylized storefronts, and busy sounds of a city that was never quiet.
DAY 2
Dining with the community
DAY 3:
MEETING HENRY CHANG & GEARLAB
Prior to my arrival in Taiwan, I scheduled a meeting with Henry Chang, founder of Gearlab. His award-winning consultancy and sports gear manufacturer that prioritizes sustainability without sacrificing quality, and these values show in their portfolio of work. After a traditionally, carb-heavy breakfast at a local cafe, Chang introduced me to some of his team's public work. What was most impressive was his positivity, resourcefulness, and gentle demeanor. If he was a reflection of a typical designer in Taiwan, then I'm honored to have learned more about such as vibrant community.
DAY 4:
THE DECHNOLOGY CONFERENCE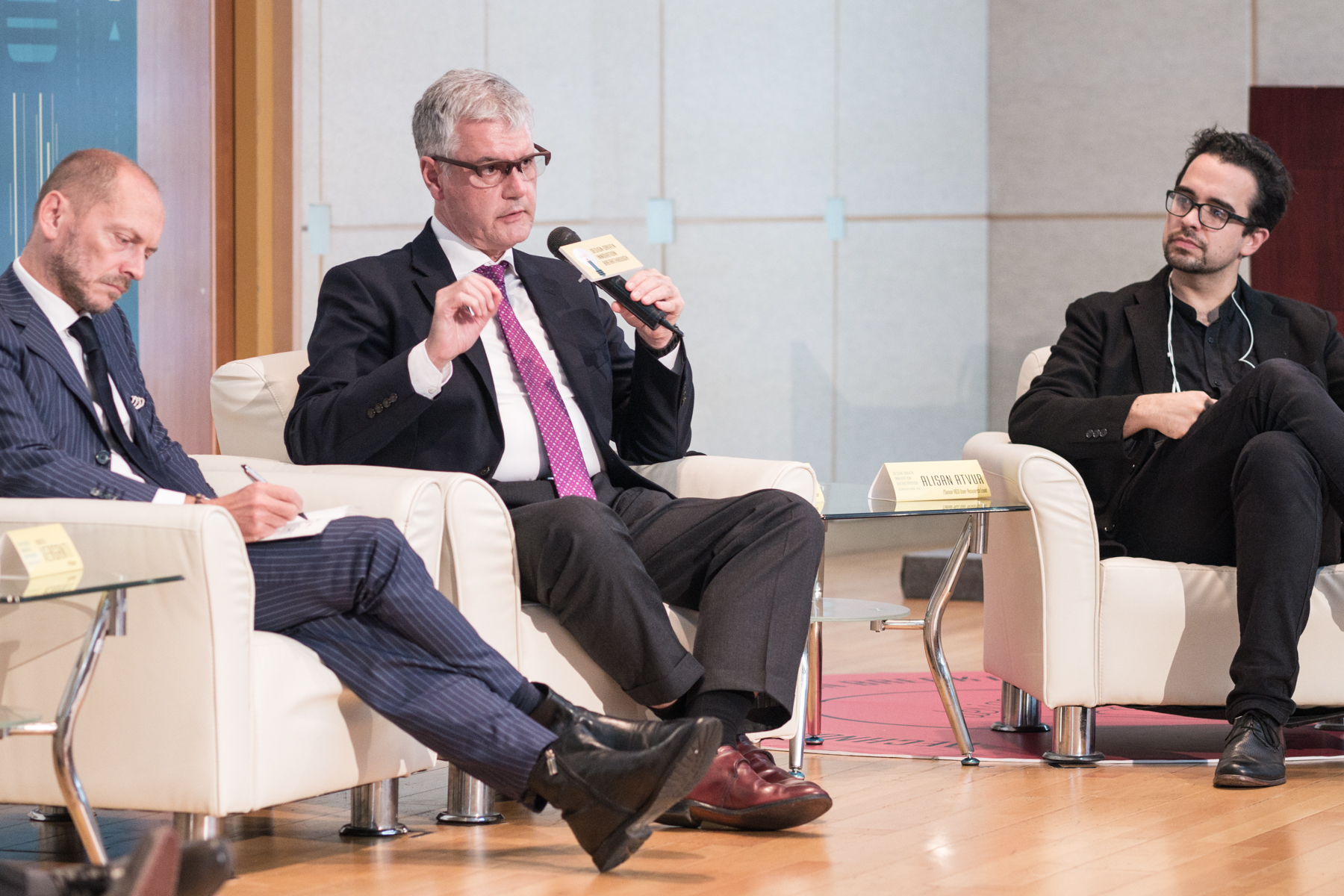 The 2016 Dechnology Forum's diverse speakers lineup included
EXPERIENCE DESIGN REALIZED
Having attendees multiple design conferences a year for nearly a decade, I was impressed by the organization and experience of the Dechnology Forum event. Simple conveniences (such as live translation for 3 languages, well-made food, flowing coffee and fast wifi) made the event easy to enjoy. However, it is the attention to detailed visual environment communication that impressed me most: it had a museum-level attention to storytelling. The hallway seen in the photograph showcases the forum's output and contributions over the years. In a matter of minutes, I absorbed a rich history of innovation without requiring a tour guide (although Mike was happy to oblige).
Post-conference conversation
 
Following the educational event, I was ready to meet old friend and recognized service design expert Arthur Yeh, Director of Service Innovation and Design Innovation at the Service Science Society of Taiwan. In a classically nerdy fashion, we reminisced about the opportunities for improving design education, recent examples of impressive consumer electronics, and case studies of exceptional service-oriented companies that could be found in Taiwan, such as the Dandy Hotels.
DAY 6:
TAIPEI, the 2016 World Design Capital
The final day in Taiwan was the busiest and most energizing, an energy shared by other designers in Taipei. In 2016, Taipei was awarded the distinction of "world design capital," a distinction awarded by ICSID to a new city every two years. Taipei's bid video for the distinction details Taiwan's unique history in industrial design and technology. I spent the morning observing various examples of social design initiatives intended to improve the livability of the city, such as the Pipr project by REnato Lab and nbt.STUDIO.
Visiting ITRI Headquarters
My last stop was a visit to ITRI headquarters in Hsinchu. I was fortunate to tour their gallery of recent technology breakthroughs, such as the brilliantly intuitive fluid driven emergency lighting concept which assists fire fighters in dark environments and their flexible, sheet-like speaker. Even their older inventions, such as the 2011 FleXpeaker (a <0.1 cm sheet capable of generating of high-quality sound) were still quite impressive.
Reflection:
TAIPEI: TAKING DESIGN SERIOUSLY
I left Taipei with a respect and appreciation that extends past motherboards and consumer technology. The community is showcasing talent in service design that leverages cutting-edge technology breakthroughs. If this community continues to invest in design (both service and industrial), I feel we may come point to Taiwan as a case study of how design physically and systematically can transform a city for the better.